Rutgers Website Templates
Got a limited budget or quick turnaround for your project? We've got you covered with our pre-built Rutgers site template – just as flexible and easy to use as the rest of our custom-built sites at a fraction of the cost.
Our site templates are built with WordPress and include all core WordPress functionalities. In addition to those features, all WCS Rutgers sites also come with:
Event registration – Use our built-in calendar system to create, share, and manage events for your audience
People listings – Dedicated pages for displaying your team members' contact and biographical information
Flexible content builder – Our selection of pre-defined content layouts are your site's building blocks
Rutgers branding – Choose between various Rutgers logos and color schemes to fit your site
Responsiveness and Accessibility – Mobile friendly and 508 compliant out of the box
Sites come with 2 hours of free consultation on how to effectively use the platform (any additional consulting services will be charged at a $115/hour rate). Site owners will be required to purchase monthly Pantheon hosting services as well as a 2 hour monthly minimum maintenance plan through WCS before launching their site.
New functionality may be added to the site template model at the rate of $115/hour. Once developed, these features will become available to all site owners via the template's shared code base framework. If you'd like a custom feature for your site, feel free to contact us with the details and we'll be happy to work with you.
Template Site Projects Pricing
Site Template Example: Canvas
Explore Canvas to see for yourself what our site templates have to offer.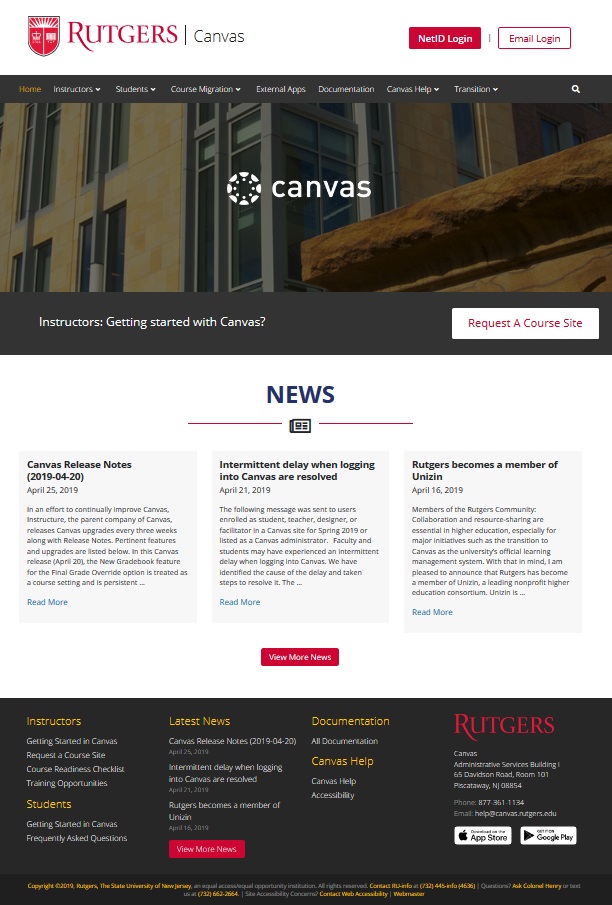 Site Template Terms of Service
Purchasing a Rutgers Website Template grants the client ownership solely of the original content and assets installed on the site, including images, videos, and files. Clients do not own the Rutgers Website template or theme. 
The Rutgers Website Template theme, Shibboleth/NetID login implementation, and premium plugins are proprietary WCS software, and may not be altered by the client.
Please note that the Rutgers Website Template cannot be transferred to other hosting environments due to its dependence on the Pantheon hosting platform. Template-based websites are not eligible for self-service hosting, as security and plugin updates are installed through a custom WCS upstream.